Today we are focusing on a vegan keto journey. A low carb diet like the keto diet makes our body use fat as an energy source instead of carbs.
As more and more people are constantly researching the latest diet trends, it is fascinating to learn how the body reacts to different foods, diets, and lifestyle modifications.
With low-carb diets, our body first uses up glucose in our blood for energy. As glucose runs low, we break down our supply of stored glucose (glycogen). Once depleted of glycogen, the body must adjust to relying on a different energy source; fat.
Having understood the basics of the keto diet, you can use a vegan approach to follow it. So, it doesn't matter if you follow a plant-based lifestyle; you can still give keto a try and combined the two, and get the best of both worlds.
In other words, keto can be adapted to fit a plant-based meal plan; even though these diets may seem opposites, it is possible to find a balance.
When you put vegan and keto together, you'll find yourself eating a higher-fat, lower-carb menu; so keep in mind it's all about what works for you and your body.
Vegan Keto Diet Benefits
People who follow vegan or plant-based diets tend to have a lower risk of chronic disease and healthy body weight. Keto is also known for its powerful effects on weight loss and overall health.
In short, there are several benefits resulting from vegan and ketogenic diets. Though there aren't many studies on the combination of the two, one can only assume following this diet would positively affect health.
People on a low carb, a vegan diet will experience weight loss.
Studies have observed that vegans have a 75% lower risk of developing high blood pressure and up to a 78% risk reduction of type 2 diabetes.
Both weight loss and reduced intake of saturated fats help lower LDL cholesterol.
The keto diet is well known for its effectiveness in weight loss, blood sugar control, and reduced heart disease risk factors.
The keto diet significantly raised adiponectin levels, a protein involved in blood sugar regulation and fat metabolism. Higher levels of adiponectin have been associated with better blood sugar control.
Foods To Avoid On A Vegan Keto Diet
Plant based diets exclude all animal products, making it more difficult to eat low-carb. Vegans also eat no meat, while keto dieters eat tons of it.
Nevertheless, with thorough planning, vegans can definitely achieve a ketogenic lifestyle.
Keto dieters often turn to high-fat animal products, such as meats, butter, and full-fat dairy. So, combining vegan and keto results in one of the most restrictive diets.
It would help if you stayed away from:
Grains: wheat, corn, rice, cereal.
Legumes: lentils, black beans, peas.
Sugar: honey, agave, maple syrup.
Fruit: apples, bananas, oranges.
Tubers: potato, yams.
Meat and poultry: Beef, turkey, chicken, pork.
Dairy: Milk, butter, yogurt.
Eggs: Egg whites and egg yolks.
Seafood: Fish, shrimp, clams, mussels.
Animal-based ingredients: Whey protein, honey, egg white protein.
Foods Allowed On A Vegan Keto Diet
Those on a vegan diet consume only plant-based foods, such as vegetables, fruits, and grains, and avoid animal-based foods like meat, poultry, eggs, and dairy.
For vegans to reach ketosis, they will rely on high-fat, plant-based products like coconut oil, avocados, seeds, and nuts.
Vegans may find it hard to adapt to keto recipes that contain animal products. Do not worry; a few simple substitutions will allow you to turn vegan, almost every keto recipe.
Check out a list of the foods you are allowed to eat:
Vegan 'meats:' tempeh, tofu, seitan.
Mushrooms: shiitake, king oyster, lion's mane.
Leafy greens: spinach, kale.
Above ground vegetables: broccoli, cauliflower, zucchini, etc.
High-fat dairy alternatives: unsweetened coconut-based yogurt, coconut cream, vegan cheeses.
Nuts and seeds: pistachios, almonds, sunflower seeds, pumpkin seeds.
Avocado and berries: raspberries, blackberries, and other low glycemic impact berries.
Fermented foods: Natto, sauerkraut, kim chi.
Sea vegetables: dulse, bladderwrack, kelp.
Sweeteners: stevia, erythritol, monk fruit, and other low-carb sweeteners.
Other fats: coconut oil, olive oil, MCT oil, avocado oil, etc.
How Do Vegetarians Get Carbs On A Keto Diet
While on a vegan ketogenic diet, carbs are definitely restricted. To get into ketosis and remain there, it's best to limit your net carb intake to 20 grams per day.
High-carb foods like grains, legumes, fruits, and starchy vegetables are permitted only in small amounts, as long as they fit into your daily carb allotment.
How Much Weight Can You Lose On Vegan Keto?
Though there hasn't been much focus on this way of eating specifically, one study showed overweight subjects placed on a low carb; vegan diet lost an average of 8-9 pounds.
You were eating a high volume of food without having to worry about taking in too many calories is unlikely to make you gain weight by accident.
From Keto To Vegan Keto: Dairy And Egg Substitutes
If you are at a loss on switching from keto to vegan food alternatives, all while keeping carbs low, then check out the following list on how to substitute food groups such as dairy.
| | |
| --- | --- |
| Dairy foods | Substitute for |
| Milk | coconut milk, almond milk |
| Cream | coconut cream |
| Butter | coconut oil/vegan butter |
| Eggs (for cooking) | flax seed |
| Eggs (for meals) | Silken tofu, Veggies |
Vegan Keto Shopping List
Want to know exactly what to get from the market to follow your diet? Find below a handy shopping list.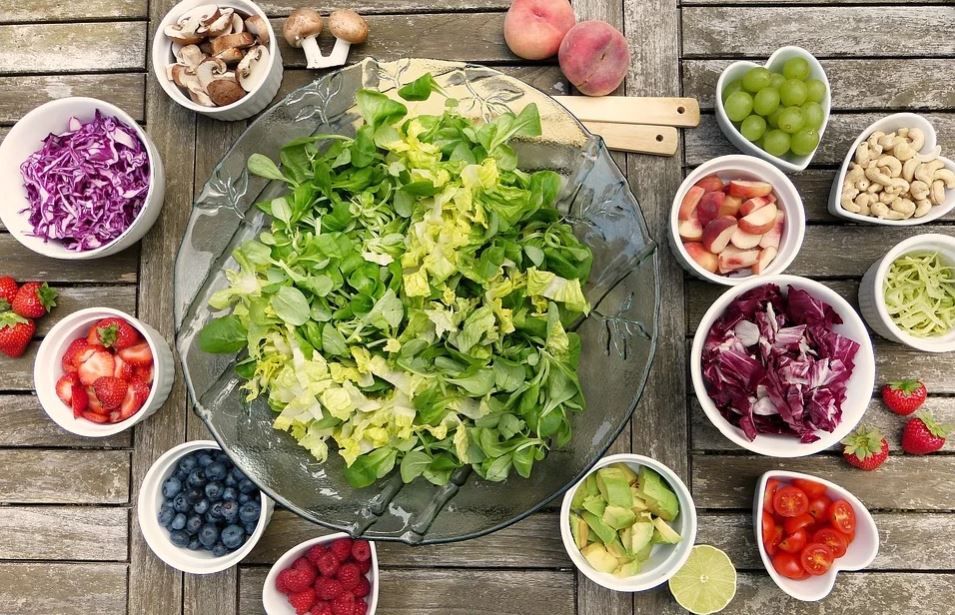 Nuts
Almonds
Brazil nuts
Hazelnuts
Macadamia nuts
Pecans
Peanuts
Walnuts
Seeds
Chia
Hemp
Pumpkin
Sunflower
Nut & Seed Butters
Almond butter
Coconut butter
Hazelnut butter
Macadamia nut butter
Peanut butter
Pecan butter
Sunflower seed butter
Other Whole-Food Fat Sources
Healthy Oils
Almond oil
Avocado oil
Coconut oil
Flaxseed oil
Hazelnut oil
Macadamia nut oil
MCT oil
Olive oil
Vegetables
Artichoke hearts
Arugula
Asparagus
Bell peppers
Beets
Bok choy
Broccoli
Brussels sprouts
Carrots
Cauliflower
Celery
Celeriac
Chard
Collards
Cucumbers
Daikon radish
Dandelion greens
Eggplant
Endive
Fennel
Garlic
Jicama
Kale
Lettuce
Mushrooms
Okra
Onion
Radishes
Rhubarb
Shallots
Spinach
Squash
Swiss chard
Turnips
Zucchini
Fruits
Avocados
Blueberries
Coconuts
Cranberries
Lemons
Limes
Olives
Raspberries
Strawberries
Watermelon
Sauces & Condiments
Chili sauce
Hot sauce
Hummus
Mustard
Soy sauce/tamari
Salsa
Tomato sauce
Vinegar
Vegan Keto Fridge Staples
Apple cider vinegar
Dairy-free yogurt
Dairy-free cheese
Pickles
Micro-greens
Sauerkraut
Seitan
Sprouts
Tempeh
Tofu
Vegan Keto Pantry Staples
Almond flour
Artichoke hearts
Baking powder
Baking soda
Coconut flour
Coconut milk
Cocoa or cacao powder
Dark chocolate
Glucomannan powder
Hearts of palm
Jackfruit
Psyllium Husk
Nutritional yeast
Vanilla extract
Other Vegan Keto Meal Staples
Herbs and spices
Edamame
Kelp noodles
Kelp flakes
Lupini beans
Shirataki noodles
Nori sheets
Roasted seaweed
Vegan Keto 7 Day Meal Plan
Inspired already to go both vegan and keto? Then check out this fantastic 7-day meal plan. Below you'll find a complete menu for an entire week; from breakfast recipes to snacks, lunch, dessert, and dinner, we've got you covered!
Day 1 -Vegan Keto Meal Plan
Dinner: Vegan Keto Cabbage Casserole
Day 2 -Vegan Keto Meal Plan
Day 3 -Vegan Keto Meal Plan
Day 4 -Vegan Keto Meal Plan
Day 5 -Vegan Keto Meal Plan
Day 6 -Vegan Keto Meal Plan
Day 7 -Vegan Keto Meal Plan
Furthermore, sign up for our Get Healthy Stay Healthy Newsletter and automatically receive our latest & greatest delivered right to your inbox! Follow Get Healthy Stay Healthy on Facebook, Twitter, Pinterest, and Instagram for all of the newest articles, recipes, and meal plans!
We love to hear from you, so if you make a Get Healthy Stay Healthy recipe or know about any other snacks or tips we left out, make sure you take a picture and share it on Instagram with @ketosidedishes.