15 Great Keto Dad Recipes
Forget about traditional gifts and get ready to surprise your old man on father's day with an amazingly delicious meal! With father's day in just a few days, you probably think that staying home is the way to go and cook all his favorites the true way to his heart.
We get it; it is a headache to think of something to gift your dad because you know what they say…what to give the man who has it all? But with these recipe ideas, you are bound to succeed.
If you feel a little overwhelmed with all the options out there, you are in the right place, our keto dad recipes are super easy. You'll find yourself cooking for him not just on father's day but any other day, which is why we choose ours now your Keto dad recipes to be the way thru your #1 guy's heart!
We've narrow it down to 15 yummy meal ideas divided between breakfast, lunch, and dinner. Five options to choose from that will make it easy to pick what your dad loves the most.
Whether your dad is a classic can't live without meat kind of guy or has a thing for pizza, you'll be able to find a bit of everything for every palate.
And the best part yet, these are all keto friendly meals that have tons of health benefits and will keep your dad turn his belly into a superhero physique! Either that or it will help him on his way to weight loss; it's definitely a win-win!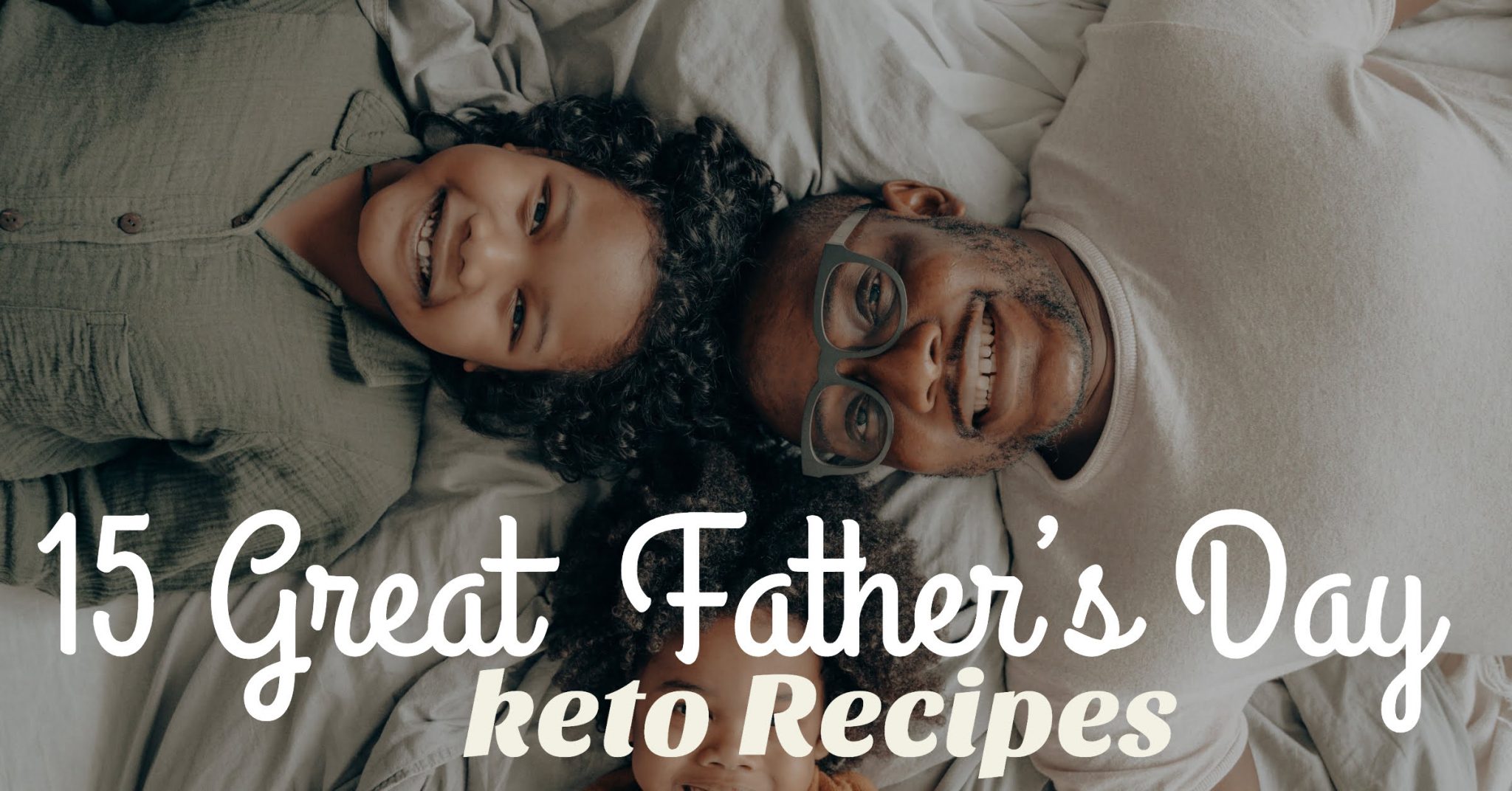 Keto Dad Recipes for Breakfast
Start your dad's day off right with these savory and sweet breakfast dishes that he'll absolutely love.
This Keto Egg and Sausage Muffin Recipe will satisfy your cravings for that McMuffin you used to enjoy so much.
2. This one is an awesome keto dad Recipe for breakfast: Keto Three-Cheese Quiche
This one delicious Keto Three-Cheese Quiche recipe, with no crust, is equally delicious.
This Keto Banana Waffles Recipe is like having breakfast and dessert at the same time!
If you're not in the mood for eggs in the morning, no problem, how about trying this lovely Keto Coconut Porridge Recipe.
This is a keto egg in a bacon basket, also known as capicola eggs in a cup, that will make your breakfast so more enjoyable.
Keto Dad Recipes for Lunch
Have your dad asking for more with these delicious lunch recipes guaranteed to satisfy his taste buds.
The Keto Curry Coconut Chicken recipe is a delicious, tasty, and easy recipe that will suit you and your dad's wildest cravings!
Try out this lo-carb Keto Cheese Shells Tacos Recipe that you can make on Taco Tuesday or any other day.
Who doesn't love lamb ch? And this keto Skillet Fried Lamb Chop recipe is ready in less than 40 minutes.
We have prepared a Keto Burger in a warm bun, made of almond flour, therefore no carbs and no regret!
This recipe is versatile; you can have it for lunch or dinner; wrap it in lettuce, and make it into a burger.
Keto Dad Recipes for Dinner
Father's day isn't complete without a memorable dinner. Check out the options and choose your dad's favorite.
The crunchy cheese tortilla in this Keto Chicken Quesadillas recipe is what makes this recipe so unique.
This Keto cheese zucchini lasagna is so easy to make and delicious; give it a try, you won't regret it.
What a delicious dinner this keto Lemon Garlic Butter Steak with Zucchini Noodles will be!! They are ready in just minutes!!
The Keto Stuffed Cabbage recipe you are about to make is set to become one of your favorite dinner dishes.
This is an easy, fast, and tasty recipe to make for any meal, yes, even breakfast.
Let's be clear; your dad deserves a great meal on his day; we hope you'll make him breakfast, lunch, and dinner this Father's Day. These Keto Dad Recipes are so easy, you can prepare for breakfast, lunch, and dinner; we are certain your whole family will enjoy them. If your dad love chicken wings like mine do, then you should try our
keto wings.
 For more ideas,
check out these recipes.