The hype of keto diets and keto lifestyle is definitely here to stay; every day, more and more people adopt this healthy way of eating, obtaining life-changing results. Many tend to think that you can't have any fast food on a keto diet. However, you may be surprised at how varied a keto menu actually is.
For those on the unknown, a ketogenic diet is basically a low-carb, high-fat diet. By drastically reducing one's carb intake, a keto diet shifts the body into what is known as ketosis, a metabolic state where fat is burned for energy.
If done right, a keto diet yields great health benefits, all while consummating substantial amounts of bacon! And what food group is more bacon-friendly than fast food?
To make you a believer, learn more about fast food keto-friendly hacks -and see for yourself how the two become unexpectedly compatible.
Check out the Fast Food Keto-Friendly Hacks you must need to know about to enjoy your favorite meal and still be on ketosis.
Best Keto Fast Food
So let's imagine it is one of those days when a tasty home-cooked keto meal is not happening, whether because you forgot to plan your meals, are on a trip, and fast food restaurants are the only option around. Or simply because you crave that greasiness that you can only get from a fast food meal. Whatever the reason, do not panic.
The key is knowing where to go and what and how to order -to stay in that ketosis state we talked about before. All you have to do is keep in mind that your body is burning fat for energy rather than typical carbohydrates. In other words, you must avoid carbs at all costs.
It can be tricky for sure, so check out below a few helpful keto hack tips:
For example, let's say you want to order a burger -to make it fit into your keto habits, you may want to order it without the buns.
If tacos are your thing, then how about ordering lettuce wraps instead of corn tortillas. Order tacos with beef, sour cream, cheese, and avocado, and skip out on the taco shell.
When ordering breakfast, ask for bacon, sausage, cheese, and egg sandwich and remove the bread before eating.
When ordering a salad, avoid dressings and sauces as most of these are full of processed sugar. Instead, get a side of olive oil and lemon or vinegar.
Stay away from soups. They tend to be full of sugar and flour.
So let's say you have no other option than to eat outside. No worries, even if you have to eat while on the road, there are fast food options to help you not betray yourself and stay on track with your low-carb meal plan.
The fast-food restaurants below can also become keto options following some of the previously mentioned tips.
Chipotle
El Pollo Loco
In-N-Out Burger
Burger King
KFC
Subway
Panda Express
Sub In A Tub- The Bunless Sandwich
The principle when it comes to ordering sandwiches is always to order yours without a bun. In other words, these become a bunless sandwich.
In one particular sandwich joint, this bunless sandwich' has been labeled with a rather interesting name. Every time you order a sandwich without the bun at Jersey Mike's, it is known as the sub 'in a tub.'
Jersey Mike's popular Sub in a Tub comes with steak, peppers, onions, and melted white American cheese that's grilled-to-order on their flat top grill in-store and then served on a bed of lettuce. Perfect for low-carb dieters.
Sounds delicious, right! You can order a BLT sub in a tub. Add mayo, oil, vinegar, and spices.
Estimated macros: 1005 calories, 6g net carbs, 102g fat, and 12g protein.
Keto Hacks – Fast Food Tips
Check out a few general tips to make the best keto-friendly choices. After all, even the healthiest among us are faced with fast food from time to time.
Bring your own seasoning. If you have the opportunity to make your own, it will give you more options, such as keto ketchup, barbecue sauce, and more. Remember, most fast food dressings and sauces are filled with sugar.
Ask for extras. If you think you are not getting enough food, ask for low-carb extras such as lettuce, tomatoes, cucumbers, olives, pickles.
Always skip the bun. Even if it is not on the menu, you can always ask for no bun on any sandwich.
Go for the meat, cheese, and veggies. Always stick to the main staples of keto, and you'll be fine. Plus you can find them even at fast food shops.
Check for nutrition facts. Most restaurant websites have nutrition info online.
Check your order. Always double-check before leaving; you don't want to end up with fried chicken instead of grilled.
Watch out for sugary dressings, breaded toppings, fried foods, potatoes, creamy or thick soups.
Keto Hacks When it Comes to Fast Food Options – What to Order
Thanks to all the diet gods, many fast-food restaurants have joined the keto bandwagon and have added lots of new items to their menus. All suitable for the keto lifestyle. Take your pick!
Arby's


What to order:
1. The thinly sliced turkey and roast beef are delicious even without a bun. Just be careful of sneaky carb sources like sweet bacon or condiments.
2. To really up the fat quotient, opt for the limited-time garlic butter steak sandwich minus the bun) which has pepper bacon, a filet, and roasted garlic butter.

Wendy's


What to order:
1. Order any sandwich at Wendy's to be served without the bun or in a lettuce wrap.
2. Another option is the half-size of the Southwest avocado chicken salad.

Dunkin Donuts


What to order:
1. A great breakfast option would be to order a Sausage, Egg, and Cheese Sandwich. Just be sure to skip the muffin. This breakfast contains about 32 grams of fat, 3 grams of net carbs, and 16 grams of protein.

Chipotle


What to order:
To make a Chipotle bowl keto appropriate, swap out your rice and beans for Chipotle's brand new super greens and get yourself a hearty and satisfying salad. Ditch the corn salsa, the tomato salsa is a better choice, and you'll be all set.

El Pollo Loco


What to order:
El Pollo Loco Fit Bowls features fire-grilled chicken on a bed of spinach, lettuce, and red cabbage with additional, varying salsas!

In-N-Out Burger


What to order:
At In-N-Out Burger, you'll be happy to know you can make any burger keto-friendly by ordering it "protein style," thus swapping out the buns for a crisp lettuce wrap.

Burger King


What to order:
You can make any Whopper (and even any of the chain's burger choices) keto by skipping the bun and ketchup. It the same thing if you're a McDonald's person.

KFC


What to order:
Forget the Colonel's crispy fried chicken and order Kentucky grilled chicken instead.

Subway


What to order:
Opt for a salad instead of a sub! Stay away from the meatballs and sweet onion teriyaki, as well as overly sugary dressings.

Panda Express


What to order:
Instead of getting rice or chow mein, definitely choose steamed veggies as the base of your meal.
Homemade Fast Food-Style Keto Recipes
With so many fast food-style recipes, it can be a little overwhelming knowing where to start. The best advice we can give you to begin cooking at home is to take upon those recipes you already know you like and enjoy eating.
Later in your homemade cooking path, you can always experiment with other keto fast food recipes; if you feel adventurous, that is.
Check out below our top picks for different keto fast food-style recipes you can make at home! Make sure to choose your favorite and let us know what you think! Remember, cooking is a labor of love.
Check out this Keto Burger in a warm bun, made of almond flour, therefore no carbs and no regret!
It's taco night; you can't eat carbs! No problem, try out this lo-carb Keto Cheese Shells Tacos Recipe that you can make on Taco Tuesday or any other day.
Are you ready to have a real taco, burrito or wrap, made with a real tortilla instead of lettuce? Now you can start with your Keto Almond Flour Tortilla recipe.
Sushi rolls during keto? Yes and no, well, no if you plan to eat a regular sushi roll, but yes, if you make this Keto California Sushi Roll recipe!
If you are tired of the same dishes, this Zucchini Lasagna Recipe will certainly inspire your creative side.
This amazingly delicious mac and cheese make for the perfect dinner, guaranteed to become a family favorite and, at the same time, a perfect option to keep up with your low-carb meal plan.
This easy keto pizza recipe is so yummy you won't believe it is only three net carbs!
After you try this delicious pizza crust, you will look at cauliflower with new eyes!
If you like spicy food, you will be a fan of this fantastic Cajun Jambalaya pasta recipe inspired by the original recipe of the world-famous Cheesecake Factory.
Keto Cheesecake Factory Inspired Cajun Jambalaya Pasta Recipe
Just in case you feel inspired to make this last recipe but don't know how to make perfect zucchini noodles, below you'll find three different options so you can get your very own spiralizer and make all the zoodles you want!
1. Make all your spiral dreams come true with Spiralizer 5-Blade Vegetable Slicer, Strongest-and-Heaviest Spiral Slicer, Best Veggie Pasta Spaghetti Maker for Keto/Paleo/Gluten-Free, Comes with 4 Recipe Ebooks.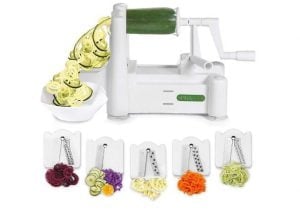 Find the Spiralizer 5-Blade Vegetable Slicer on Amazon for $25.97  
2. Original SpiraLife Spiralizer Vegetable Slicer – Vegetable Spiralizer – Spiral Slicer Cutter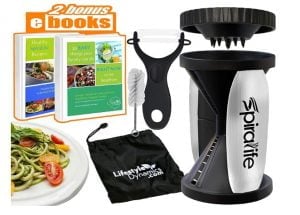 Find this handy kitchen gadget on Amazon for only $11.97
3. Check out the OXO Good Grips Handheld Spiralizer, Green, 1 Blade -perfect for curly fries, frittatas, salad garnishes, low-carb entrees, and desserts!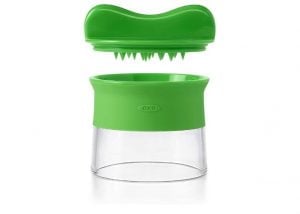 Also, on Amazon for $15.61
Furthermore, sign up for our Get Healthy Stay Healthy Newsletter and automatically receive our latest & greatest delivered right to your inbox! Follow Get Healthy Stay Healthy on Facebook, Twitter, Pinterest, and Instagram for all of the newest articles, recipes, and meal plans!
We love to hear from you, so if you make a Get Healthy Stay Healthy recipe or know about any other Fast Food Keto Hack, we left out, make sure you take a picture and share it on Instagram with @ketosidedishes.